These are some of my favorite motorcycle links.
Some of the links are organizations that I belong to. Others list great motorcycle roads for both long and short rides. A few are links to websites developed by my friends. I hope you enjoy them!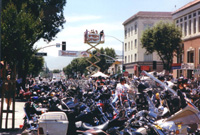 HOLLISTER, JULY, 2002
Search Engines
AltaVista You know us as the Internet's original search engine.
Lycos One of the most visited hubs on the Internet reaching one out of every two web users.
Yahoo! With over half a million sites divided into more than 25,000 categories, Yahoo! is both browseable and searchable.
InfoSeek GO Network is a new brand that brings together the very best of the Internet in one, easy to use place.
Favorite Motorcycle Sites
Modified Motorcycle Association State Office State website for the Modified Motorcycle Association. The MMA is a non-profit corporation formed and established in March, 1973 for the concerned motorcyclist with the goals and objectives of making the sport of motorcycling safer, and protecting the interest of its members.

ABATE of California A motorcycle rights organization dedicated to preserving individual freedom and promoting safety.

California Motorcycle Safety Program A safety training program for both new and experienced motorcyclists.

California Motorcycle Roads A wonderful website giving descriptions and maps of all the great motorcycle roads to visit here in California.
Motorcycle Rides in Ventura County and Beyond If you are interested in out-of-the-way-back-roads-motorcycle outings, then these escapes are for you.
Los Angeles Chapter of Women on Wheels Women On Wheels® was founded in California by an avid woman motorcyclist in 1982. Its purpose was, and still is, to unite all women motorcycle enthusiasts for recreation, education, mutual support, recognition and to promote a positive image of motorcycling.
Current and Upcoming Motorcycle Events A list of motorcycle events and rides with ride information and contact names & addresses.
Sunshine's Website My good friend, Linda Cummings-Whelan's, website. Linda is the Director of the L.A. WOW Chapter. Her website has additional motorcycle links that may interest you.
Website of Shirley Dicks Her website is dedicated to women motorcyclists. Shirley is an author and would love to hear your motorcycle stories. Visit her website for more info.